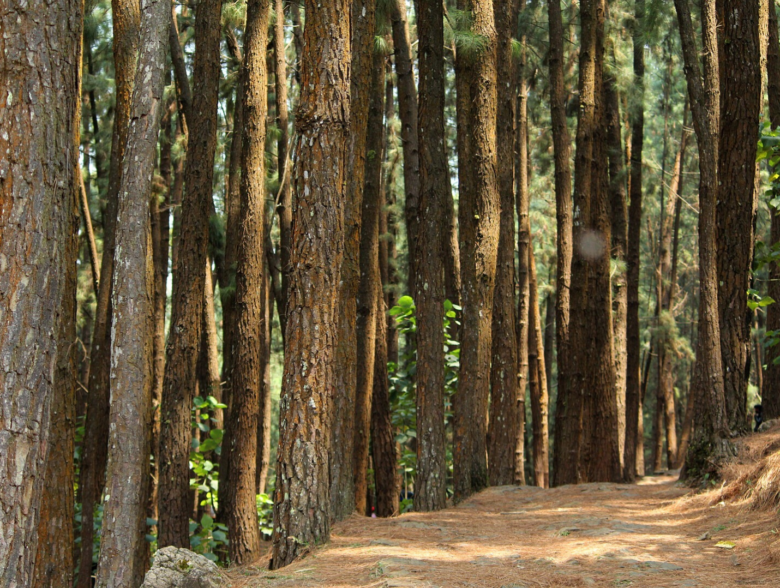 Vagamon is a hill station situated 1,100 meters above sea level. located in Kottayam-Idukki border of Kerala. It has a cool climate with the temperature between 10 and 23 °C during a summer midday. Vagamon also known as the 'Scotland of Asia', was discovered by the Britishers who found the place ideal for tea plantations and they were followed by Christian missionaries who built their abode of service at Kurisumala in Vagamon. National Geographic Traveler has listed Vagamon on their directory of the '50 most attractive places to visit in India.
The landscape is mostly hilly bald with green meadows. This dream land is Still untouched by commercialization, the sleepy town with its scenic valleys, beautiful green meadows, enchanting pine forests, mists, fogs, tea estates, waterfalls with the overall greenery is really striking. Cuddled up within three striking hills Thangal, Murugan and Kurisumala hills which are the representation of the chief religions in Kerala, i.e. Hindu, Muslim, and Christian which represent the cultural harmony. Vagamon has amenities for trekking, paragliding, mountaineering and rock climbing. However, business interests are trying their best to exploit and sell and market
vagamon for tourists.
Vagamon presents very spectacular views with an ethereal touch. This place is at the fringe of the Western Ghats and the foot hills on its lower side reach up to Teekoy with a gradual descent. This narrow strip of descending land gives a vital connectivity to the plains as both sides of vagamon up to kuttikkanam on the south-west and moolamattom on the northeast, are marked by steep and inaccessible hill slopes. Travelling by the hill highway in this section is an exhilarating experience with deep valleys and magnificent views all around. Vagamon's charm is worth experiencing and is indeed one of the must-see places for tourists. Reaching Vagamon
itself is an extraordinary experience.
This place has the potential to become one of the most attractive summer resorts in India. Facilities for hang gliding, mountaineering, angling, boating, trekking can be provided here.
Places of Interest
 Kurisumala ( Mountain of the holy cross ):- This hill area includes 12 sub mounds where pilgrims visit. Travellers can enjoy trekking and climbing this high hill. The area is fully surrounded by Tea estates and lakes. Kurisumala monastery situated on the Kurisumala hill is a famous pilgrimage centre for the Nazrani Catholics where cross put-up in each sub hill stations. The nearby Kurisumala Ashram is an abode of calm and spiritual delight.
Indo-Swiss Project Dairy Farms:- It's situated on the Kurisumala hill. The dairy farm is managed by the Kurisumala monks.
 Vagamon Meadows:- The rolling green meadows of Vagamon has a lake amidst them. It has for long been a favourite location for shooting movie songs.
Pine Forests:- A valley having huge lofty pine trees lined in rows.
Thangal Hill:- This is a centre of Muslim pilgrimage. There is an ancient cave though which one can walk for kilometres. A suicide point is also situated here.
Mooppanpara:- It is a v-shaped canyon, one of the admired viewpoints as well acknowledged as a suicide point. The outlook from the summit of the strenuous climb is amazing.
Murugan Hill:- It is situated near to Thangal Para. A Murugan temple is situated which is devoted to Lord Muruga with gorgeous stone age carving
Create a trip plan to Vagamon FREE
Places to visit near Vagamon
Anjuruli is a tourist spot located 3km from Kanchiyar village, on the Kotta..

Cascading of the Water through the seven steps is very beautiful. It is an ..

Karadippara view point is a great place to capture the beauty of Munnar. It..
Create fully customized day by day itinerary for FREE