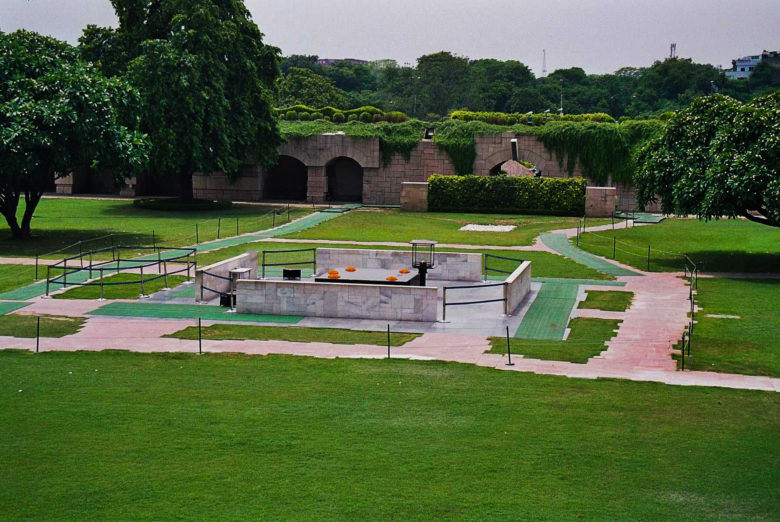 Raj Ghat
Raj Ghat is a monument honoring the Father of our nation Mahatma Gandhi. The place represents the cremation of Mahatma Gandhi. The last rites were conducted on 31st January 1948 the next day after his assassination. Long ago, there used to be an old ghat on the Yamuna River's edge, and that's what was known as Raj Ghat.
The simple design of Raj Ghat reflects Mahatma Gandhi's own simplicity. It's made of black marble and stands about 2 feet tall. White marble fences encircle it. The platform is open, with only the sky above. The words "Hey Ram," which were Mahatma Gandhi's last words, are carved on it. There is an eternal flame at the place To the north of Raj Ghat is Shantivana, where Jawaharlal Nehru is laid to rest.
Raj Ghat is surrounded by a lovely scene of greenery and fountains. There's a park all around it, and this park has trees planted by important people from around the world. People like the former US President Dwight D. Eisenhower, Queen Elizabeth II, former Prime Minister of Australia Gough Whitlam, Ho Chi Minh.and many more. All the guests are requested to remove their footwears while entering Raj Ghat as a symbol of respect towards Mahatma Gandhi.
How to reach Raj Ghat ?
Raj Ghat in New Delhi lies between the ring road and the serene banks of the Yamuna River. It's just 4 km from Janpath market, a favorite shopping spot in Delhi. You can find Raj Ghat at the address Gandhi Smriti, Raj Ghat, New Delhi.
To visit Raj Ghat, tourists have two main options: by road or by metro rail. The closest metro station is the Delhi Metro station on the Violet line, which is roughly 800 meters away. If you use the metro, you can also consider the Indraprastha metro station on the Blue line or the Chandni Chowk metro station on the Yellow line. These stations are about 2km and 3km away from Raj Ghat, respectively.
The nearest airport is Indira Gandhi International Airport, New Delhi which is 11 Km away from Raj Ghat. And the nearest railway station is (NDLS)New Delhi which is 2.96 Kms away.
Entry fee: Raj ghat is free for entrance, there is no extra charges for camera or anything.
Nearby Attractions 
Gandhi Memorial Hall
National Gandhi Museum
Shanti Van
Feroz Shah Kotla
Red Fort
India Gate
Create a trip plan to Raj Ghat New Delhi FREE
Places to visit near Raj Ghat New Delhi
Also known as Maqbara-e-Humayun is a remarkable historical site in Delhi, I..

Takht Sri Patna Sahib aka Harmandir Sahib is a sacred Gurdwara at Patna, Th..

The Garden of Five Senses is not just a park, it is a space with a variety ..
Raj Ghat New Delhi travel Guide
Create fully customized day by day itinerary for FREE