Karumadikuttan / Granite statue of Lord Buddha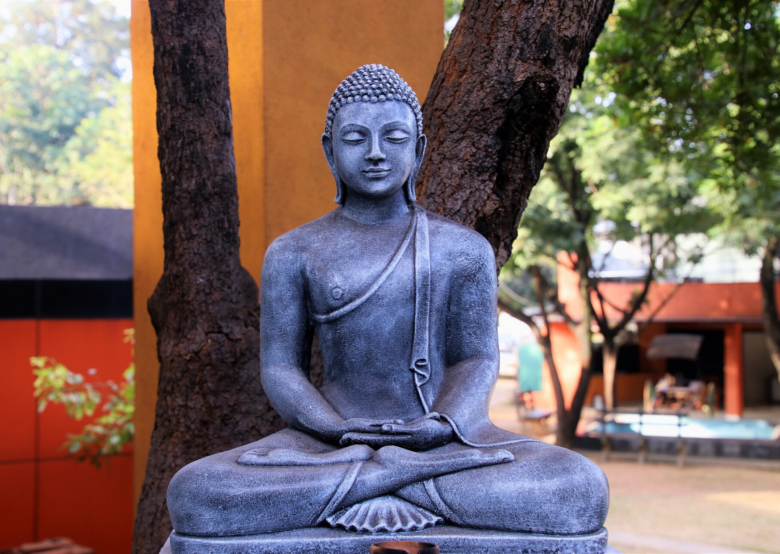 The small village near Ambalapuzha is known for Karumadikuttan, a black granite statue of Lord Buddha. The statue is a remain from the 10th century. Karumadikuttan is in the small village of Karumadi, near Ambalapuzha. The statue of Karumadikuttan is situated 3 km east of Ambalappuzha, in the district of Alappuzha.
You can reach the Karumadikuttan statue by traveling 15 Km from Alappuzha on route NH 47 between Kollam and Alappuzha. In the third century B.C. Buddhism came to Kerala. The 8th century B.C. Renaissance saw the decline of Buddhism. Here in Kerala, Buddhism did not flourish to its full potential, but Buddha statues and idols were demolished or ignored in the Kerala coastal districts, especially Alappuzha. In many places, Buddhist stupas and sculptures have been unearthed, and Karumadikuttan is one of those ancient Buddhist images in Kerala. The statue is a sitting position of Lord Gautham Budhha. It is assumed that the statue is old up to the 9th to 14th centuries.
The Karumadikuttan is a statue of the Lord Gautam Buddha in black stonework. A huge and majestic stately statue of Lord Buddha is situated at the backwaters on the banks of the "Punnamada" river. The village of Karumadi is the arrogant holder of the Karumadikuttan, the major mark of Buddhism in Kerala. One can claim that this inspirational Buddhist statue is the only Buddhist temple in Kerala. It also symbolizes the bits and pieces of an ancient civilization that still retains its past splendor in complete ambiance with a rich religious heritage. It is said to be established by Buddhist monks who visited Kerala with a message of love and non-violence through Alappuzha port. Many houseboats are cruising through this region.
The sail through the backwaters of Alleppey – Kumarakom – Varkala– Alumkadavu – Karumadikuttan – Kochi is the main route of cruising. The Karumadikuttan Buddha statue at Karumadi is more or less covered by all backwater and boat tours along this route.
Create a trip plan to Karumadikuttan / Granite statue of Lord Buddha FREE
Places to visit near Karumadikuttan / Granite statue of Lord Buddha
The small village near Ambalapuzha is known for the black granite statue of..

Hill Palace, the largest archeological museum in Kerala is dwelling in Thri..
Create a fully customized day by day itinerary for FREE