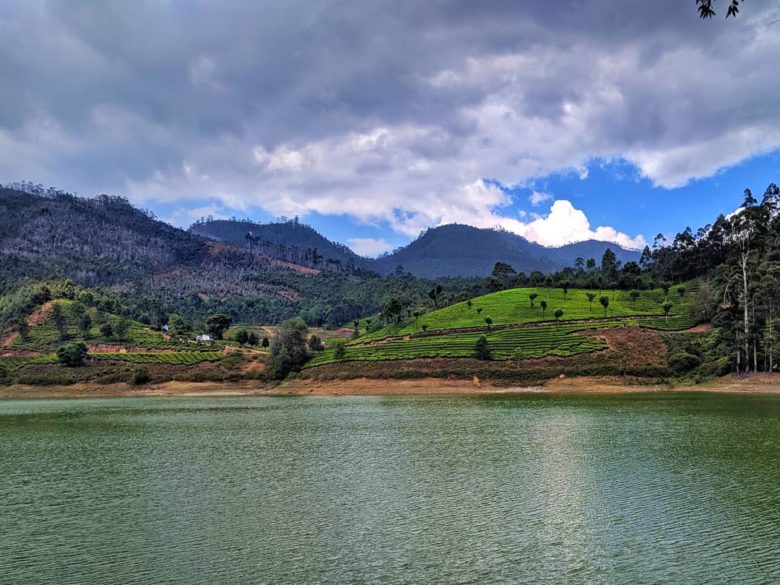 Nestled inside the hills of Munnar and very near to the Anamudi peak lies Mattupetty, the hill station at a height of 1,700 m. Mattupetty is located 13 km away from Munnar. Mattupetty Dam is one of the largest dams near Munnar. It has been an important supply of power yielding alongside different such dams, vast revenue to the states. A large amount of perennially available water allows wild animals and birds to flourish. However, salinity caused by irrigation and water-logging is of concern to environmentalists. It is one of the major hydropower projects for the state of Kerala. Water reservoir formed by a dam occupies a vast land area and gives the form of a lake.
Surrounded by the tea gardens, Shola forest and hilly woods lay a beautiful lake, just a few miles away from the Mattupetty dam. The serene ambience of the lake will take you to a world of peace. The most attractive part of Mattupetty dam is its still water which reflects the tea garden around. You can engage yourself with water sport activities. Paddle boating can be done in this dam lake. A small market is also present nearby, but it's a little expensive and shopkeepers don't bargain. We can have a beautiful view of the water on the other side of the dam. We can even get down in the stairs to a certain level. Be careful of the slippery sand. Getting out climbing the stairs can be challenging. water flow through the dam can be observed only during the rainy season or some part of the winter. During summer level of water is lower than flow through the dam.
Create a trip plan to Mattupetty Dam FREE
Places to visit near Mattupetty Dam
Mattupetti is notable for its Indo Swiss live farms, where many superior ra..
Create a fully customized day by day itinerary for FREE