.
Top 10 famous Elephants living in Kerala
Kerala, rich with culture and heritage, is a land of elephant lovers. There are a lot of famous elephants in Kerala. As elephants are more related to Hindu Gods, most of the temples in Kerala own elephants to be a part of their religious rituals. The Punnattur Kotta, which is home for several elephants, gives a clear image of the love towards elephants. 
Based on the recent updates the top 10 famous elephants in Kerala in 2020 according to their heights are listed below:
Thechikottukavu Ramachandran:

Born in 1964, this 56 years old Thechikottukavu Ramachandran, the king of elephants is a celebrity among all Malayalis around the world. Thechikottukavu Ramachandran, the tallest tusker in Kerala and the second tallest one in India, is an attraction in all poorams and festivals held in Kerala. This 316 cm tall elephant is a captive elephant owned by the Thechikottukave Devasom and is partially blind. Thechikottukavu Ramachandran does the Pooram Vilambaram that marks the beginning of Thrissur Pooram.
As Thechikottukavu Ramachandran has killed around 13 people, injured hundreds, and even was a cause of death of 2 other elephants, it is banned from being paraded for temple festivals. And on a conditional nod, this elephant can participate in Thrissur Pooram. Thechikottukavu Ramachandran, the most famous elephant in Kerala, is considered to be the best elephant in Kerala.
Chirakkal Kalidasan:

From the dense forests of Karnataka, Manniserry Hari, an elephant lover brought Kalidasan to Kerala. Within a limited time frame, this elephant became famous among the people with its unique physique. And with a height of 314 cm, it is even known as 'junior thechikod' with its stature that resembles Thechikottukavu Ramachandran. Chirakkal Kalidasan recently became a part of the big-budget film Bahubali, and now its fame is spread all around the world.
Thrikkadavoor Sivaraju: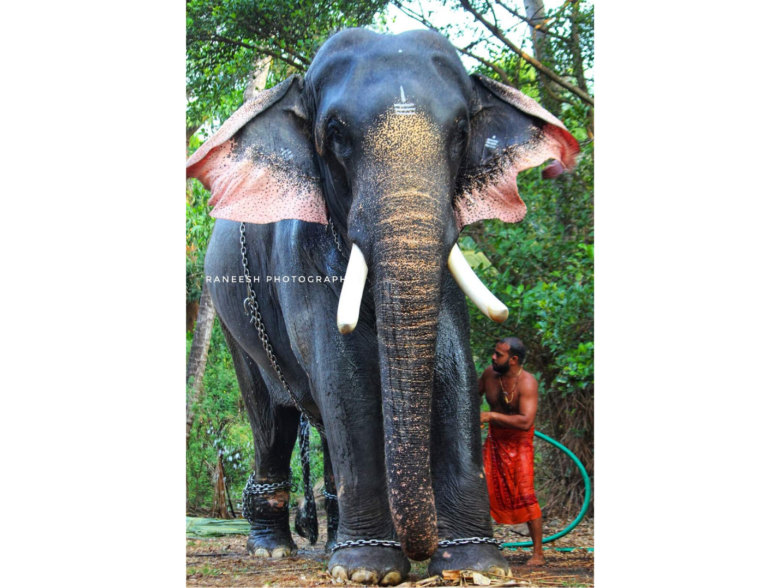 Sivaraju was adopted by the Travancore Devasom board from Konni Aanakoodu and was brought to the famous Thrikkadavoor temple in Kollam district. Thrikkadaboor Sivaraju is one of the tallest elephants in Kerala, with a height of 311.3 cm. Also, it is the most famous elephant in the Kollam district of Kerala. Sivaraju, with its appealing grace and elegance, is becoming famous among people around Kerala. The long tusk and big ears are the unique attractions of Sivaraju, looks like an African elephant. 
Cherupulassery Rajasekharan:
The main attraction along festivals in Kerala Cherupulassery Rajasekharan is one elephant that stands out in front of people. Belonging to Palakkad, this giant beauty is not just about its height(309.5 cm), but the forehead, long trunk, beautiful pairs of tusks, nails add in making it unique. Cherupulassery Rajasekharan will be busy traveling from temples to temples during festival seasons.
Puthuppally Kesavan: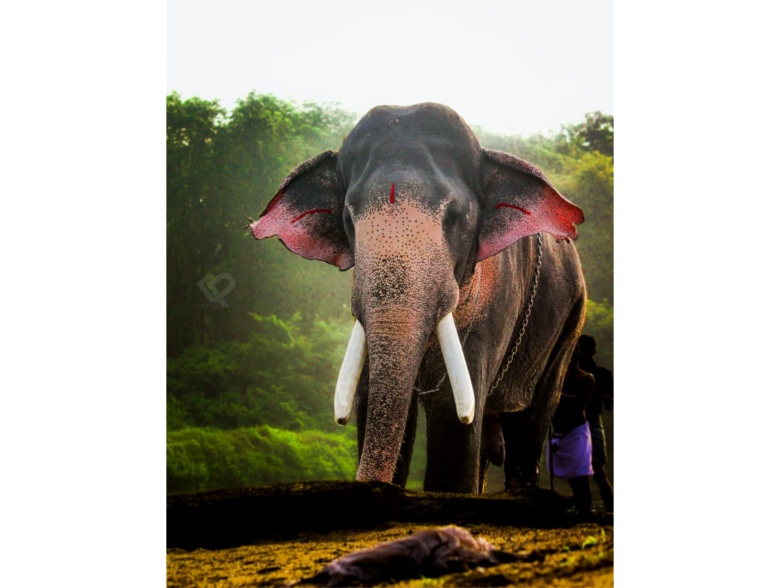 Known as the Giant beauty among the elephants in Kerala, Puthuppally Kesavan(309 cm) is an asset for the people of Puthuppally, Kottayam. A recent title was given to this elephant, as the 'virangavishwapragapati' on the occasion of Ithithanam Gajamela. As an upcoming star among the tallest elephants in Kerala, Kesavan will get more honors and titles in the future.
Guruvayoor Valiya Kesavan:
This tusker, more alike as Guruvayoor Kesavan, got its name as Valiya Kesavan belongs to the Guruvayoor Devasom. Among the elephants in Anakkotta or Punathurkotta in Guruvayoor, with a height of 308.7 cm, this one stands out with its huge body size, flat forehead, long legs, and the long trunk that touches the ground. From Bihar to Kerala, this elephant is the main attraction who parades for several famous festivals all across Kerala. 
Pampady Rajan: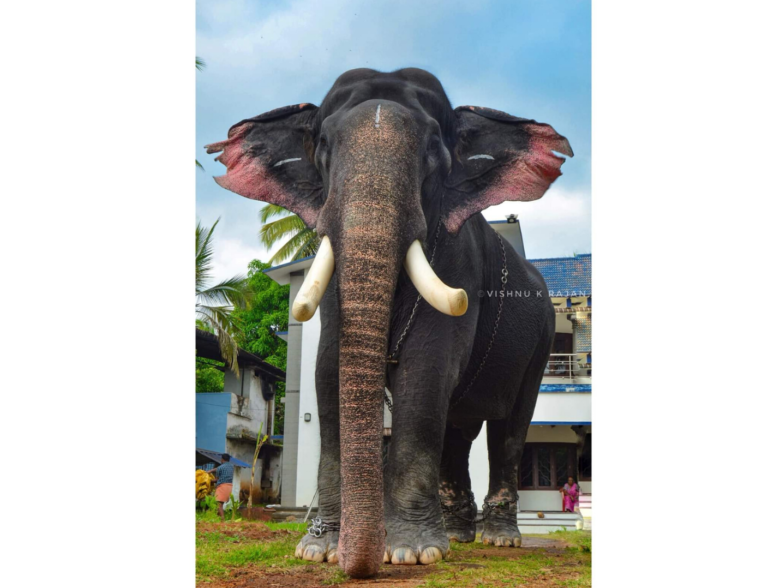 One of the tallest elephants in Kerala Pampady Rajan is known for its stature and bearings. This is the most famous elephant in Kottayam district. This 308.4 cm tall elephant is honored with numerous awards and titles, that include Gajarajan, Gajakesari, Gajarajakulapathi, Gajarakthnam, Gajarajaprajapathi, Gajaraja Lakshana Perumaal, GajendraKarnan, GajarajaGajothama Thilakam, and even the rare award of Gajamaanikyam. 
Cherupulassery Ananthapadmanaban: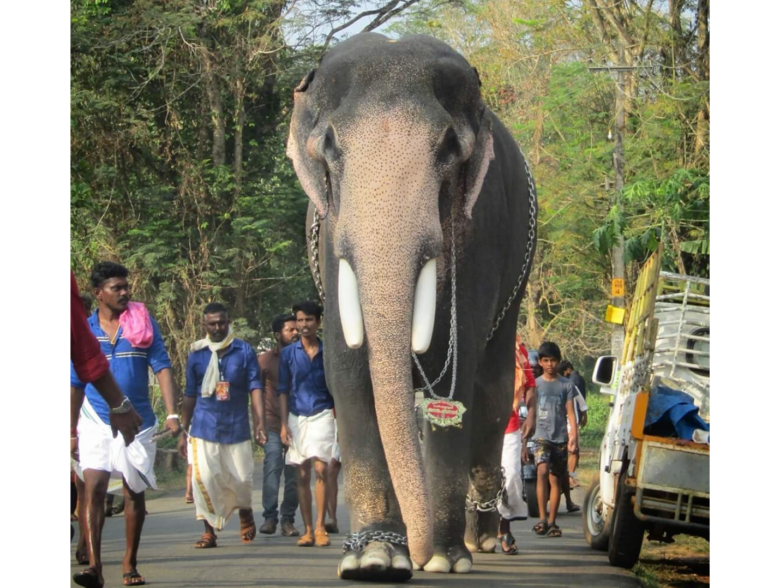 Cherupulassery Ananthapadmanaban with a height of 306.4 cm, is one of the famous elephants in Kerala belonging to the Palakkad district. Apart from all other tuskers, Ananthapadmanaban is distinct with a raised head with low back, large ears, and straight legs without deformities.
Mangalamkunnu Ayyappan:
Below the age of 25, this elephant was brought to Kerala from the Sonpur Mela of Bihar in 1992. Within his young age, he acted in a lot of Tamil and Malayalam movies, thus holding a filmstar position. 
The broad flat forehead, beautiful tusks, long trunk, and its whitish haired tail all add to it, giving an elegant royal look. With a height of 305.1 cm, Mangalamkunnu Ayyappan is one of the tallest elephants in Kerala.
Uttoly Anandan:
Uttoly Anandan, also known as gajarajachakravarthi Uttoly Anandan, is a famous elephant in Kerala. With a height of 305.1 cm, this elephant is one of the tallest ones in Thrissur. The long curved tusks and the beautiful long trunk are the main attractions of Anandan.